Fifty migrants missing over boat sinks off Libyan coast
Comments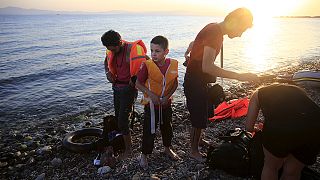 At least 50 migrants are missing after a large rubber dinghy sank in the Mediterranean Sea off the coast of Libya, Italian officials said Wednesday.
Rescuers managed to pull fifty two migrants to safety; a naval ship rushed to the scene after the dinghy appeared to be deflating and dropped life rafts into the sea.
Those migrants who have been accounted for have been taken to the Italian island of Lampedusa.
Immigrants have been arriving in a similar fashion on the Greek island of Kos.
Hundreds of people arrive on the country's eastern Aegean islands daily from Turkey. Most of them are fleeing conflict or persecution in Syria and Afghanistan.
The UN refugee agency says at least 124,000 people have done so in the first seven months of this year alone.
That is up by 750 percent from the same period last year
Greece has become Europe's main entry point for boat people.
The alternative route from north Africa to Italy is now increasingly dangerous owing to fighting in Libya.
From Greece, migrants move north through the Balkans, hoping to gain asylum in countries such Germany, the Netherlands or Sweden.