Varying reactions around Europe to new migrant wave
Comments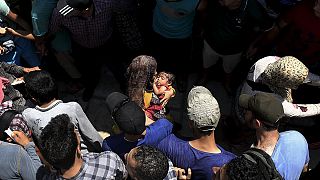 As Europe struggles to cope with a surge in the number of migrants, the European Commission has approved 2.4 billion euros of aid over six years for member countries.
Italy is to receive the most aid, nearly 560 million euros, while
Greece will receive 473 million.
Britain has already received 27 million euros, while France gets 20 million later this month.
"We are now able to disperse the funding for the French national programme. The UK has already received the first disbursement of their funding, and so both of these sums go to, amongst other things, dealing with the situation in Calais," said EU Commission spokeswoman Natasha Bertaud.
The northern French port of Calais has become one of the frontlines in Europe's wider migrant crisis alongside the Italian and Greek islands.
More than 3,000 migrants and refugees are there. Many try to enter Britain illegally through the Eurotunnel to claim asylum. This situation has caused at least 10 migrant deaths since the beginning of June.
The French and British governments have responded by erecting new fences near the tracks.
In the UK, where anti-immigrant sentiments are on the rise, the government has promised a new law to tighten immigration rules.
Landlords will be required to check whether their tenants have the right to live in Britain, or face severe penalties, including imprisonment.
"What we are saying is that we have to crack down on those rogue landlords that exploit the immigration system by deliberately renting properties to people who don't have the right to be in this country. In future, they will have to check whether someone is able to reside in this country and if they willfully flout those rules then it will be a criminal offence," says the Secretary of State for Communities and Local Government Greg Clark..
Elsewhere Hungary has attracted criticism for attempting to stop migrants by building a 100-mile-long razor wire fence which runs along its border with Serbia.
Every day some 1,500 refugees, mostly Afghan and Syrian, stream out of the woods into Hungary. And the numbers have increased since June, as many try to enter the country before the fence is fully in place.
In Germany a record 450,000 refugees are expected to arrive this year, up from 200.000 in 2014.
As summer temperatures rose in Berlin last Friday, volunteers
were busy bringing water, food and shelter for the refugees waiting to apply for asylum.
"We saw that the people here need things and that there was a call for people to help. I bought the things together with my daughter and brought them here. I'm here for human reasons," said volunteer Khalid Sarris.