'31 dead in Syrian government air strikes' close to Damascus
Comments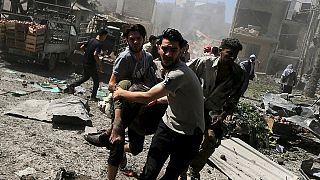 At least 31 people have been killed in air strikes just outside the Syrian capital of Damascus, a monitoring group has said.
The Syrian Observatory for Human Rights said government air forces struck a series of rebel-held neighbourhoods, including Saqba and Darayya.
It said that at least 120 people were injured.
Euronews has been unable to independently verify the Observatory's casualty figures.
The strikes came as rebels bombarded the capital with rockets.
Those attacks killed at least four people, according to the Syrian interior ministry.
Meanwhile, a two day truce agreed on between Lebanese Hezbollah fighters in a Syrian border town and militant and rebels groups started earlier.
The cease-fire silenced the guns in the town of Zabadani, as well as villages in Syria's Idlib province.
Iranian Foreign Minister Mohammad Javad Zarif has travelled to Damascus where he is to discuss an Iranian plan to end the bloodshed.
The plan will put forward to the UN and it is believed to call for a national unity government.
Tehran is a long-time backer of Syria's Bashar al-Assad.