Japan switches nuclear power back on four years after Fukushima
Comments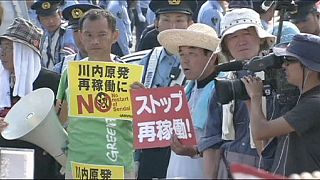 Japan has switched on its first nuclear reactor since the Fukushima disaster four years ago.
The government shut all its plants after the 2011 meltdown, which was triggered by an earthquake and a tsunami.
New tests and safety rules were introduced prior to the re-opening of the Senadi reactor in the country's south-western Kagoshima region.
Japanese officials say the move is needed to cut energy bills and reduce CO2 emissions.
But anti-nuclear demonstrators remain sceptical.
"I hope they call it off. People's lives and the environment are more important than the economy," said one woman protesting outside the Senadi plant.
These new standards that the Abe government has got the nuclear regulatory agency to agree upon, have just slightly raised the bar with regards to earthquakes and tsunamis, but in fact they are full of holes," said one male demonstrator.
More than 16,000 people died in the earthquake and tsnunami that triggered Fukushima, which forced 160,000 to flee their homes.
But none of those deaths have officially been linked to the nuclear disaster.