West Midlands to Magaluf - British bobbies patrol Spanish resort town
Comments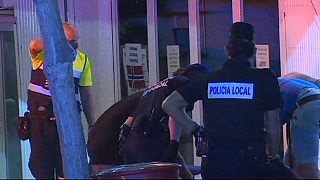 Two British police officers have begun patrolling the streets of Magaluf to help the Guardia Civil deal with troublesome UK holidaymakers.
The popular party spot has struggled with an increase in drunken and violent behaviour.
"They will be engaging with British holidaymakers," explained Andy Marsh, Chief Constable, Hampshire Constabulary. "They might be, unfortunately, victims of crime. They might be witnesses. And they will also be engaging with offenders, who might think that just because they are out of the country and the local police can't speak English, perhaps some of them, that they can get away with things they wouldn't get away with on the high streets in England and Wales".
Although the police will have no power of arrest, the scheme hopes that the mere presence of British bobbies will be enough to deter bad behaviour.
The two-week trial begins in Magaluf before moving to Ibiza and if successful could be extended.