Confrontation at Belfast republican rally
Comments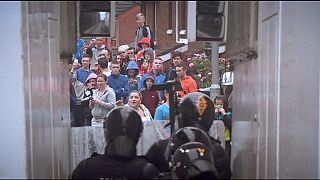 Police in Northern Ireland used water cannons to stop a republican parade from going into Belfast city centre on Sunday.
The authorities said the rally, organised by the Anti-Internment League, had missed a deadline to apply for permission for the march, and had therefore broken the law by going ahead.
The rally had been organised to mark the introduction by the British authorities of detaining suspected militants without trial.
It was abandoned in 1975 after it proved so controversial, and it still provokes strong feeling, especially in the republican community, which is mainly Catholic.