Haiti: angry scenes as voters go to the polls
Comments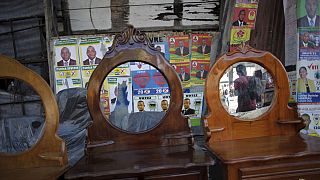 There have been angry scenes in Haiti as the country goes to the polls for legislative elections that have been repeatedly delayed since 2011.
Police and UN peacekeepers have been posted at key flash points in the capital, Port au Prince.
First voting centes being closed due to unrest http://t.co/vQlgAjJ2YS#Haiti#HaitiElections

— Haiti Vote Blog (@HaitiVoteBlog) August 9, 2015
There have been several deaths during campaigning, which got underway in July.
Six million people are eligible to vote. They are choosing two-thirds of the Senate and the Chamber of Deputies.
The run-off will be held in October, on the same day as Haiti's presidential election.
Thousands people took the streets in #Haiti's Capital in an Anti-government protest. Pictures courtesy jeanjuniorj</a> <a href="http://t.co/WdQ9iPNKV7">pic.twitter.com/WdQ9iPNKV7</a></p>&mdash; Vladimir Laguerre™ (vladlaguerre) February 4, 2015
The national parliament was dissolved in January over its failure to hold an election, leaving Haiti without a functioning government.
Observers are watching closely. The election is seen by many as a crucial test of stability for the impoverished nation.