Stolen Stradivarius returned to rightful owners 35 years after disappearance
Comments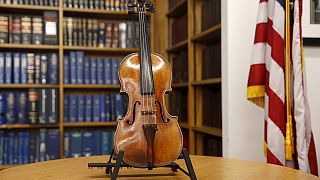 A stolen rare violin made in 1734 has been returned to the family of its rightful owner by authorities in the United States.
Known as the Ames Stradivarius, it was made by the Italian violin maker Antonio Stradivarius.
Owned by famed Polish violinist Roman Totenberg, the violin was stolen in 1980.
In June, it reappeared in Manhattan when a woman handed the instrument to violin maker, Philip Injeian, hoping to find out more about the gift she had received from her late former husband.
"Seeing these instruments first hand, it's like knowing family members. It's easily recognisable. So when I saw this one, it was truly a Eureka moment," explained Injeian.
Sadly, Roman Totenberg never got to see or play his violin again before he passed away three years ago.
Approximately 550 Stradivarius instruments, including violins, violas and cellos remain in existence. One violin sold for a record $15.9 million at auction in 2011.