Migrant crisis: five arrested after vessel capsizes off Libya
Comments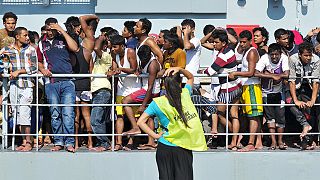 More than 380 migrants were brought safely ashore on Friday morning in the Italian port of Pozzallo.
They were rescued off the coast of Libya. Early indications suggest they are from Syria, Bangladesh and sub-Saharan Africa.
But while many are being rescued, there are also some who are not.
The UNHCR now thinks 200 people died when their boat capsized on Wednesday night. 400 were rescued.
Azeel 19 mths, & her family survived yesterday's Mediterranean shipwreck in which scores died https://t.co/NamcxqgQ7rpic.twitter.com/oDolkTWDmZ

— UN Refugee Agency (@Refugees) 6 Août 2015
Survivors say the vessel tilted when those on board spotted an Irish naval vessel and rushed to one side.
Italian police say five people have been arrested on suspicion of multiple homicide and human trafficking.
The three Libyans and two Algerians are being questioned in Palermo in Sicily.
It is alleged migrants were beaten and stabbed during the voyage, with many locked in the hold.