Ceremony in Turkey marks 100 years since Gallipoli August offensive
Comments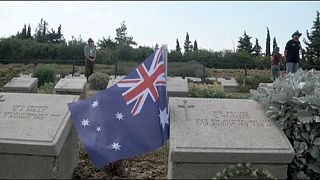 A ceremony attended by the Australian Governor General Peter Cosgrove has been held in Turkey to mark the 100th anniversary of the August offensive of the World War One battle in Gallipoli.
Thousands of soldiers from the Australian and New Zealand Army Corps (ANZAC) were among the 130,000 people who died in the campaign, which marked an important point in the birth of both nations.
The area has become a site of pilgrimage for visitors who honour their nations' fallen in graveyards halfway around the world on ANZAC Day every April 25.