Prime Minister Mariano Rajoy stands firm over Spanish unity
Comments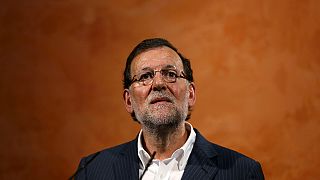 The Spanish Prime Minister said on Tuesday that no one is going to break up the country.
Mariano Rajoy was reacting to the Catalan president's claim on Monday that the :regional election in September":http://www.euronews.com/2015/08/03/spain-heading-for-constitutional-tension-as-catalonia-calls-an-early-election/ would launch the province on the road to independence if deputies from separatist parties were to win a simple majority.
"No one is going to break up Spain in any way", said Rajoy. "Nobody is going to turn citizens of Catalonia into foreigners in their own country, which is what some people are attempting to do. The state and government will not leave you unprotected."
The Catalan president Artur Mas has called elections a year earlier than he had to. While he acknowledges that other political issues will influence people's choice, he has made clear that he sees the September poll as a proxy vote on independence.
"If there are more deputies in favour of the "No" then the "Yes", Prime Minister Rajoy will surely be the first one, or the second or third, to say that the majority of Catalans don't want to follow this process", Mas told a press conference. "Therefore if the argument is valid for the "No", it should also be valid for the "Yes".
Artur Mas is attempting drive the independence issue forward off the back of the referendum in November last year, which the Spanish government declared unconstitutional.
Eighty percent of those who voted opted for independence, although the turnout was only 40 percent.