Four killed amid flash floods and mudslides in FYROM
Comments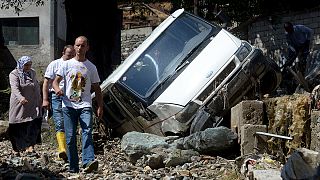 Four people, including a seven-year-old child, have been killed and one person is missing after heavy rain unleashed flash floods and mudslides in the Former Yugoslav Republic of Macedonia.
Another dozen people were injured, but their condition was stable, said a police spokesman in Tetovo, a town in the area that was hardest hit by the flooding.
A storm swept in late on Monday, bringing hail and strong winds along with the rain.
The extent of the damage is still being established.
The government was due to hold an emergency session on Tuesday to decide about further measures to help affected areas.