California wildfires: Thousands told to flee as 'Rocky' ravages drought-parched terrain
Comments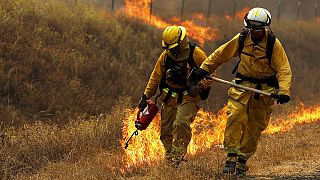 California continues to be ravaged by wildfires. More than 13,000 people have been urged to flee their homes.
Cooler weather has given some relief to fire crews but years of drought have helped the spread of the biggest blaze dubbed Rocky, north of San Francisco. It has already destroyed at least two dozen homes. Thousands more lie in its path.
The blaze has scorched some 62,000 acres since erupting last week in the canyons and foothills along the inland flanks of California's North Coast Ranges, quadrupling in size over the weekend.
It raced through 20,000 acres in one five-hour stretch on Saturday night, a rate that
local fire officials described as "unprecedented."
More than 9,000 firefighters, many of them reinforcements from out of state, were dispatched in California.
CAL FIRE Riverside Unit joins forces to battle fires burning in Nor Cal. Rocky Fire: Credit, Div. Chief Steve Beach pic.twitter.com/f1udS7QfUl

— CAL FIRE Riverside (@CALFIRERRU) August 3, 2015
A third of that force has been assigned to the Rocky Fire alone, along with 19 water-dropping helicopters and four airplane tankers
No serious injuries have been reported.
But a Forest Service firefighter from South Dakota died on Thursday in a separate, smaller fire in Modoc National Forest near California's border with Oregon.