Syrian warplane crashes in rebel-held town, casualties reported
Comments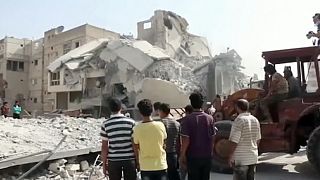 At least 27 people have been killed and dozens injured after a Syrian army fighter jet crashed into a busy marketplace in the northwestern town on Ariha.
According to the Britain-based Observatory of Human Rights, most of the dead were civilians resident in the town that fell to Islamist insurgents in May.
It had been one of the government's last strongholds in Idlib province.
According to eyewitnesses the plane had been flying at a low altitude when it dropped a bomb on the main commercial street before crashing in the marketplace.
It is not clear how the plane came down, but the Observatory believes it was not shot down.
In recent weeks fighting in Idlib province has intensified between an insurgent coalition and government forces, which relies heavily on air-power to bombard rebel held towns in the four-year-old civil war.