Kremlin spokesman in post‐wedding fuss over uber luxury watch
Comments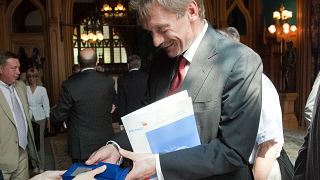 Putin spokesman Dimitry Peskov made the papers in Sochi, Russia, over the weekend, but not simply for his extravagant wedding. He was snapped kissing his ice dancing wife, Tatiana Navka, with a $620,000 ticker on his wrist.
By giving a watch, your time spent as a couple might run out.
There is an Irish superstition to not give a loved one a watch. By giving a watch, your time spent as a couple might run out. For the Russian press it is a mystery as to where the lavish timepiece came from.
Peskov was sporting a Richard Mille RM 52-01, worth reportedly four times his annual salary, of which opposition activist Alexei Navalny was not pleased. He repeatedly tweeted Sunday an image showcasing the model and value of the watch.
Russia's Mustachioed Corruption http://t.co/WpBnS8Rq1Ypic.twitter.com/iq9Fk3aChq

— Alexey Navalny (@navalny) August 2, 2015
Putin also appears to have a taste for luxury wristwatches, a claimed 11 in total. Peskov was quoted in April saying that Russia was "consistently and seriously fighting corruption in the country".
Transparency International, an anti-corruption organisation, gave Russia a score of 27 out of 100 on its 2014 Corruption Perceptions Index.
Image credit: CC Flickr / Original Photo: Russian Council