France: Roads gridlocked in 'Black Saturday' holiday getaway
Comments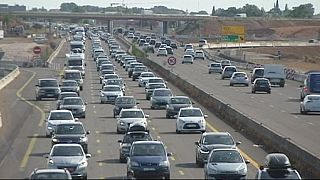 It is the great holiday getaway in France – or maybe that should be the great holiday standstill.
Many routes have been gridlocked, as scores of people head off on their annual summer breaks.
Those taking to the roads on so-called "Black Saturday" have been left in first gear.
"We've been on the road 12 hours from Belgium. It's very tiring, especially at night," said one man in the back of a car.
A woman, also trapped in traffic, added: "I'm sick of it."
Up to 900 kilometres of queues have been stacking up across France – the equivalent of Paris to St Tropez.
There have been particular problems on routes leading to the Atlantic and Mediterranean coasts.
Police have brought in measures to try and ease the pain, but motorists were being urged to delay their journeys where possible.