UK-France migrant crisis: Cameron pledges sniffer dogs and fencing
Comments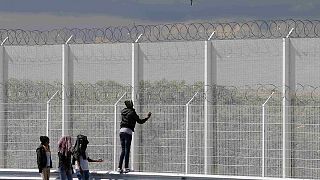 British Prime Minister David Cameron has pledged extra sniffer dogs and fencing in efforts to tackle the Channel Tunnel migrant crisis, describing the situation as "not acceptable".
The situation is not acceptable and it is absolutely this government's priority to deal with it in every way we can
He spoke after chairing a meeting of the government's emergency response committee 'Cobra' following a fourth night of disruption at the Eurotunnel terminal near Calais in France.
Despite reinforcements, French police are heavily outnumbered and reports suggest that more than 1,000 migrants tried to storm the tunnel overnight from Thursday to Friday to enter the UK illegally.
"Well the situation is not acceptable and it is absolutely this government's priority to deal with it in every way we can, starting with helping the French on their side of the border," Cameron said after the crisis meeting.
"We are going to put in more fencing, more resources, more sniffer dog teams, more assistance in any way we can, in terms of resources."
#Calais migrants: David Cameron pledges extra sniffer dogs and fencing for France http://t.co/aUn4VyXBdupic.twitter.com/yDIjHmHgXd

— The Telegraph (@Telegraph) July 31, 2015
Cameron's earlier use of the word 'swarm' to refer to migrants has
been widely denounced, not least by The Refugee Council, a UK charity working directly with refugees.
"It's incumbent on the prime minister to show leadership, to use responsible language, to remember we are a country with a proud tradition of protecting refugees and upholding human rights," said the charity's Advocacy Manager, Anna Musgrave.
"Bearing in mind that it's understandable that people feel alarmed by some of the images that are coming through on their TV screens…
it's so important that the prime minister shows leadership on this and doesn't fuel fears."
Government land will be made available to ease disruption caused by queuing lorries in the southern country of Kent, on the British side of the Channel.
To help hauliers and the people of Kent we will do all we can to get the queues moving. Sorting this situation out is an absolute priority.

— David Cameron (@David_Cameron) July 31, 2015
The existing traffic-management plan, 'Operation Stack', has been dubbed 'Operation Stuck' – with thousands of lorries lined up on the roads, going nowhere.