Families of MH370 victims renew talk of compensation after debris find
Comments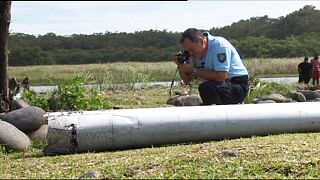 Malaysian investigators are expected on the French island of Reunion to investigate whether washed-up debris belongs to missing Malaysia Airlines flight MH370.
It's been identified as a "flaperon" – a wing component.
Officials and aviation experts say the part is almost certainly from a Boeing 777 – the same type of jet that vanished.
Later, the debris will be sent to a French military laboratory near Toulouse – along with a fragment of luggage.
Flight MH370 disappeared in March last year, en-route from Kuala Lumpur to Beijing.
On board were 239 passengers and crew.
Relatives of those on the plane are desperate for answers.
But this man says the debris doesn't prove anything.
"Everyone consoled each other when we heard this information. We discussed it together and everyone thought there is no need to believe it.
"Even if we find out that this piece of debris belongs to MH370, there's no way to prove that our people were with that plane."
If the part is from the flight, experts will try to re-trace it's drift pattern.
But they say it's unlikely to provide any more precise information about the aircraft's final resting place.