Migrants: UK is not a "safe haven" says Cameron
Comments
By
Euronews
with
APTN, Reuters, Danish Television DK.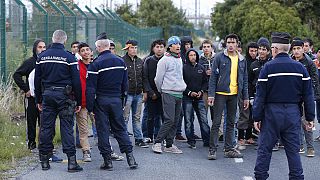 The UK Prime Minister says Britain will not become a "safe haven" for migrants.
His words come as hundreds gathered at the French entrance to the Channel Tunnel for the third night in a row.
#AUSedition Calais migrant crisis: David Cameron vows more deportations http://t.co/tGi14daMwn#Guardian

— News, Views, People. (@TheCampaignPage) July 30, 2015
More than 3,500 have tried to get in and cross to the UK this week alone. Nine have been killed in the last month.
French police apprehended 300 people. The UK is investing in fencing and reinforcing security. David Cameron says finding the source of the problem is key:
David Cameron has told migrants in Calais that Britain will not be a "safe haven" and they will be deported. pic.twitter.com/P7Uujz3QyF

— UK News (@UK__News) July 30, 2015
"We need to work together very closely with the French, very closely with the companies, but we do need to recognise the source of this problem, which is people crossing the Mediterranean in search of a better life and we've got to deal with that problem at its source as well."
France is sending an extra 120 police officers to Calais.
Eurotunnel has asked for 9.7 million euros in compensation from the British and French governments to cover its operational costs.
Meanwhile, a 16-year-old Egyptian youth is in a critical condition in hospital in Paris after being electrocuted on the roof of a Eurostar train leaving the Gare du Nord.
#Egyptian electrocuted trying to jump onto #London-#Paris train http://t.co/O8HCwj4TZG

— Randa

HABIB

(@RandaHabib) July 29, 2015