Egypt prepares to inaugurate new Suez Canal
Comments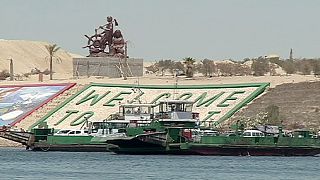 Egypt has finished builiding its new Suez Canal, a project President Abdel Fattah al-Sisi regards as a symbol of national pride and a major chance to stimulate an economy suffering double-digit unemployment.
The new canal, which will allow two-way traffic of larger ships, aims at expanding trade and reducing navigation time, along the fastest shippin route between Europe and Asia.
Vice-Admiral Mohab Mamish is chairman of the Suez Canal Authority: "We have successfully completed tests since last Saturday. Three large ships sailed through the canal, these vessels have passed safely and securely through which proves to everyone that the new canal is already safe for navigation."
Today, the canal earns Egypt 4.5 billion euros per year, which the planners project should climb to 13.5 billion euros annually by 2023.
Not bad for a channel that's already 145 years old. Its early shareholders were mostly French and British, until President Gamal Abdel Nasser nationalised the crossing in 1956.
The Arab-Israeli Six Day War in 1967 led to its blockade by Egypt until 1975, and therefore the birth of oil-carrying supertankers.
Only Egyptian companies and individuals have been allowed to buy shares in the new project, as the state has gathered 7.7 billion euros in form of investment certificates nearly one year ago, offering a return of up to 12 percent.
Our correspondent in Egypt, Mohammed Shaikhibrahim says this is expected to bring in more money and create jobs.
"When the whole project will be completed, the area surrounding the canal will be transformed into an industrial and commercial hub, providing logistic services and touristic facilities. Foreign investment suffered enormously as Egypt was gripped by violence after the uprising in 2011. Now the government hopes this project will help to revive the country's declining economy."