Obama urges nations to respect democracy in African Union speech
Comments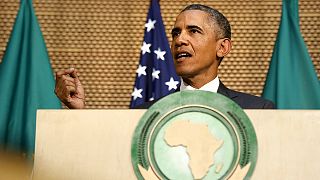 At the end of an historic and personally significant trip, Barack Obama has left Africa with words of hope and warning.
Before setting off from Ethiopia, he became the first serving US president to address the African Union – urging nations to respect democracy and to create many more jobs.
He also said however that "a new Africa is emerging" and made a plea for the whole of humanity.
"We must uphold the inherent dignity of every human being," Obama told the 54-nation African Union in Addis Ababa.
"Dignity. The basic idea that by virtue of our common humanity, no matter where we come from or what we look like, we are all born equal, touched by the grace of God. Every person has worth, every person matters, every person deserves to be treated with decency and respect."
Also on Tuesday, Obama toured an Ethiopian food plant supported by a US government programme aimed at spurring economic
growth and reducing hunger.
Today President Obama visited @FeedtheFuture supported Faffa Foods | @POTUS@WhiteHouse#foodsecuritypic.twitter.com/2WQqYnZoKc

— USAID (@USAID) 28 Juillet 2015
His two-country tour started on Friday in Kenya, his father's homeland.