Fires: thousands in emergency shelters as huge blazes take hold in France and Spain
Comments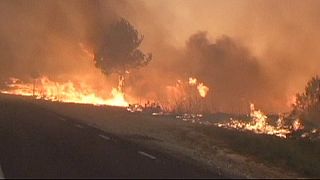 The emergency services are at full stretch in two areas of France as they battle wildfires threatening to engulf homes and livelihoods.
The country's largest summer forest fire in French) to date has taken hold near Bordeaux. No one has been injured and there is no damage to property.
Fréjus
That is not the case in Fréjus on the Cote d'Azur where 33 static caravans have been destroyed and 10,000 holidaymakers moved to safety.
French President Francois Hollande is in the region (page in French) to help rally the emergency crews who are working flat out.
Spain
Emergency personnel are also tackling a blaze in Spain.
500 people have been evacuated from their homes in Odena in the north-eastern region of Catalonia.
EN DIRECTE Tanquen l'accés al monestir de #Montserrat com a mesura preventiva http://t.co/jFBvnWNKOX#IFOdena

— NacióDigital.cat (@naciodigital) 26 Juillet 2015
The flames have laid waste to more than a thousand hectares of land.
Firefighters face having to work through the night once more as they try to encircle the fire and contain it.