Europe "must capitalise on gay rights momentum"
Comments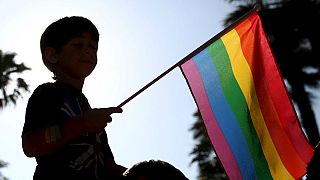 Europe must build on momentum generated by a series of landmark decisions on recognising gay relationships, campaigners have urged.
The European Court of Human Rights (ECHR) ruled last week that Italy must legally recognise same-sex couples.
The groundbreaking judgement, which could be challenged by Rome, opens the possibility of other gay couples taking their cases to Strasbourg.
It comes after Ireland approved gay marriage following a referendum in May, followed by the USA after a Supreme Court ruling.
The ECHR – which covers the 47 states of the Council of Europe rather than just the European Union – said just over half, 24, recognise same-sex couples.
Italy, Bulgaria, Cyprus, Estonia, Greece, Latvia, Lithuania, Poland, Romania and Slovakia are the EU states that do not recognise gay unions, according to data from Rainbow Europe.
---
Where in the EU are same-sex relationships recognised?
---
Paulo Côrte-Real, co-chair of gay rights campaigners ILGA Europe, called the judgement 'a significant evolution' but cautioned marriage equality was still down to individual countries.
He added: "We hope more European countries will be inspired by this judgment, and by the momentum generated by a growing number of countries in Europe, and start their own initiatives to eliminate all types of discrimination against our families.
"Lack of legal recognition means that same-sex couples and their children are denied the protection and rights which other families take for granted – and, at the end of the day, any discrimination amounts to second-class citizenship."
ECHE ruled on July 21 that Italy's failure to provide any form of legal recognition for same-sex couples violated Article 8 of the European Convention on Human Rights, the right to a private and family life.
Mr Côrte-Real added: "This judgment is a call for immediate action in Italy. The groundswell of positive public opinion and political support that was so evident in Italy following the Irish marriage equality referendum led to the promise of the long-anticipated partnership bill before the summer. We were very disappointed to see it delayed until the parliament returns in the autumn. This decision makes it clear that Italian politicians must act swiftly – and decisively."