Turkish Kurds protest against airstrikes and mass arrests
Comments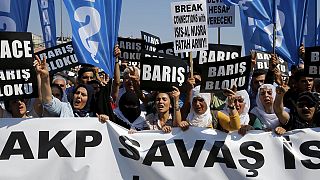 Kurds in Turkey have been demonstrating against Ankara's airstrikes against Kurdish militants in Iraq, but also against the arrest of hundreds of people, mostly Kurds, across the country.
A peaceful demonstration in Istanbul has also taken place against the deadly ISIL attack on the mainly Kurdish town of Suruc, which left 32 people dead, and the violence that has followed.
"This is the declaration of the end of the peace process by the government," one man told euronews. "But we don't expect peace from ISIL supporters, from regional powers. We believe that peace will come from the people, oppressed people of the country. We are trying to support their effort."
Another man said: "We are here with other survivors of the Suruç bombing. This is a peace rally. We want peace and we are against war."
Ankara denies claims by the PKK, which is fighting for Kurdish autonomy, that it has been covertly supporting ISIL to weaken Kurdish forces in Syria.
Water cannon was used to break up demonstrators who gathered in a suburb of Istanbul for the funeral of a woman killed on Friday.
The suspected member of the outlawed extreme-left Revolutionary People's Liberation Party Front was shot during a police raid.
Authorities say the raids targeted suspected ISIL supporters, the PKK and the extreme-left group, with more than 800 people arrested.
Many Kurds have blamed the government for the attack, saying it has refused to confront ISIL. Ankara denies the claims.