Rival rallies in Warsaw for and against immigration
Comments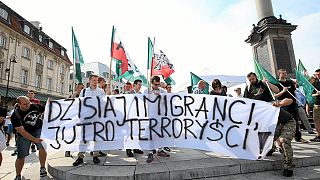 Warsaw was host to rival pro and anti migrant rallies.
300 far-right protesters chanted 'today it's migrants, tomorrow it's terrorists', while around 100 people carrying bread and salt, a sign of hospitality, stood near the central train station to welcome asylum seekers.
Poland said it was ready to take in 2,000 migrants as Europe aims to ease the burden on Italy and Greece.