Obama travels to father's homeland of Kenya
Comments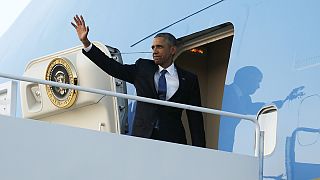 Barack Obama has left for a visit to Kenya, his first trip to his father's homeland as US President.
Obama previously travelled to the country as a US Senator, but this is the first visit since winning the White House in 2008.
Barack Obama will visit Kenya, the home country of his father, for the first time as president http://t.co/p6ugo7l1XDpic.twitter.com/2epviWdCdb

— Newsweek (@Newsweek) July 24, 2015
The president left a military facility in Maryland on board Air Force One.
He is also due to visit Ethiopia, with business meetings very much the focus.
Media reports say Obama will meet family members in Nairobi, but he will not visit the village where his ancestors come from.
Kenya is said to be launching its biggest ever security operation for the visit.
The president's trip comes just three months after 148 people were killed by Islamist militants at a university.
Also, in September 2013, 67 people were killed in an attack on Nairobi's Westgate shopping mall.
Obama arrives in Kenya on Friday and will attend a business summit, as well as a meeting with President Uhuru Kenyatta.
He is then due to arrive in Ethiopia on Sunday, becoming the first US president to travel there.
He will have talks with the Ethiopian Prime Minister, Hailemariam Desalegn, and is also due to address a meeting of the African Union.
Kenya kicks off biggest ever security operation for Barack Obama welcome http://t.co/LkUYaGv4H8

— The Guardian (@guardian) July 24, 2015
What's on the agenda as Obama comes to Kenya?http://t.co/m0iodUJtZ2pic.twitter.com/iGqZnwxsMb

— Agence France-Presse (@AFP) July 24, 2015
Obama's success on his Kenya trip depends on how he distinguishes U.S. policy from colonialism & Chinese capitalism. http://t.co/aWi53NYJGl

— Foreign Policy (@ForeignPolicy) July 24, 2015
Obama faces gay rights challenge in Kenya http://t.co/LqmYvtTh4w | AP Photo pic.twitter.com/1t0RzxTAVP

—

POLITICO

(@politico) July 24, 2015
Read more about the biggest issues on the agenda for President Obama's trip to Africa: July 24, 2015