Migrants collect at Europe's gates, solidarity on hold
Comments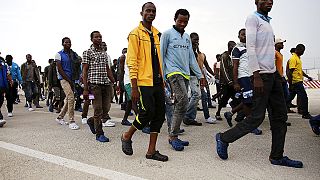 Seeing migrants wash up on Italy's coasts has become extremely regular on news screens, but we don't necessarily see where they end up — which is all over the country, including in central Rome (Portuguese RTP).
International authorities say some 150,000 migrants fleeing wars and poverty have reached Europe by sea so far this year, most of them arriving in Italy and Greece. The EU member states are at odds over relocation quotas (France 2).
Many migrants pass through the Balkans, walking across Macedonia then Serbia, to reach Hungary, gateway to the European Union. Hungary is building a wall to stop them. Macedonia is not equipped (Swiss RTS).