The scything tale of the French actor and Belarusian president
Comments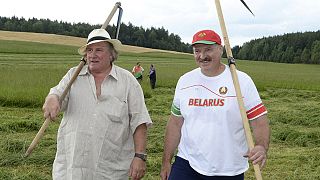 French actor Gerard Depardieu, despite being branded a 'threat to national security' in Ukraine, still has friends in high places in Belarus.
The man with the Russian passport spent an agreeable time with President Alexander Lukashenko, once described as "Europe's last dictator," at his farm north of Minsk.
Depardieu banned from Ukraine even as he gets up to latest escapades in Belarus http://t.co/1hTDhNjGO7 by @ASLuhnpic.twitter.com/Ja2YPVbYcY

— Shaun Walker (@shaunwalker7) July 23, 2015
The pair passed the time scything grass before feasting on traditional Belarusian food and home-distilled vodka.
The visit comes ahead of the country's presidential election, which Mr Lukashenko is widely expected to win.