Texas murder probe into death in police custody
Comments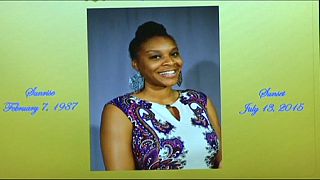 Dashboard camera video involving a traffic stop in Texas of a woman later found hanging dead in her jail cell showed how the incident quickly escalated into an altercation between her and a state trooper.
Sandra Bland, a 28-year-old black woman from Chicago, was pulled over on July 10 in Houston, Texas for failing to signal a lane change.
The video, released by the Texas Department of Public Safety, shows the officer, Brian Encinia, approaching the car and asking if Bland is irritated. Bland replies that she is upset about being stopped for such a minor issue.
After running a check of Bland's driving history, the trooper returns and asks her to put out her cigarette, which she refuses to do, saying she has the right to smoke in her own vehicle.
At that point, the video shows Encinia demanding she leave the vehicle and then trying to pull her out. He then points a Taser and shouts: "I will light you up."
Bland asks at least 10 times about why she is being arrested and for what offence before Encinia replies she is resisting arrest.
She is heard telling the trooper: "I can't wait until we go to court."
The #SandraBland arrest is difficult to watch but you need to watch it because Jesus Christ http://t.co/m1Orm55fNIpic.twitter.com/rhNk22YCfB

— Mother Jones (@MotherJones) July 22, 2015
Bland, who was taken into custody and later charged with assaulting an officer, was found hanging in her jail cell with a plastic refuse bag around her neck three days later.
Her death was originally ruled a suicide. But her family, while acknowledging that Bland previously posted a video blog saying she was struggling with depression, has dismissed the idea she was suicidal. Family members said she was excited about starting a new job.
Waller County District Attorney Elton Mathis said on Monday he would investigate her death as a homicide. Encinia has been has been put on desk duty for violating protocol in the arrest, officials have said.
Demonstrators have protested outside the jail where Bland died and her case has been taken up by activists who say it is the latest example of racial bias and excessive force by US law enforcement. The trooper involved in the incident is white.
Video of Sandra Bland's arrest shows argument with police officer http://t.co/DWfhcvEC3Jpic.twitter.com/AMqf9yNB7v

— Telegraph News (@TelegraphNews) July 22, 2015