Terror suspects arrested in Italy and Spain
Comments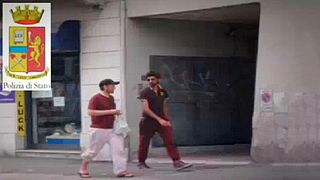 Italian police have arrested two men suspected of spreading threatening online messages in support of the self-proclaimed Islamic State, or ISIL.
Brescia, Italy
The pair, a 35-year-old Tunisian national and a 27-year-old Pakistani, are also thought to have plotted attacks in Italy.
Police say the Tunisian man created a Twitter account from which he is alleged to have tweeted "threatening messages signed Islamic State." The messages were usually pictures, with some of Italy's most famous landmarks in the background.
#Italy#Italia#Vatican: #ISIS#IslamicState in #Rome#Romahttps://t.co/WOEY6xK1WRpic.twitter.com/w3Z7T5reRK

— Michael Baskin (@michael300e) May 20, 2015
Both men are said to legally work and reside in the town of Brescia, near Milan.
Italy's Head of Anti-Terrorism Forces, Lamberto Giannini said evidence suggested the accused wished to promote conflict inside and outside of the country.
"We did not observe the presence of rooted terrorist cells. But we observed messages: continuous invitations to reach conflict areas and also to operate on Italian territory, if unable to travel abroad."
Supporters of the #IslamicState in Rome pic.twitter.com/NVPRv9Z0Pn

— Ĺëbåñěşë Můjãhíđä (@lebanese070) May 3, 2015
("We are everywhere." "We are in your street.")
Madrid, Spain
In a separate case, a 29-year-old native of the Spanish North African enclave of Melilla has been detained in Madrid on accusations of distributing propaganda and recruiting girls and young women to join ISIL in Syria and Iraq.
Between January and July 22, 2015, Spain arrested 49 people suspected of carrying out Islamist militant activities.