Olympics: New stadium plans to be drawn up for Tokyo 2020
Comments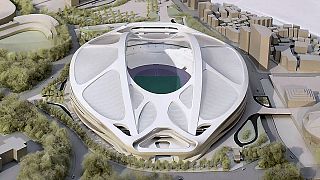 The internal wranglings over the main arena for the 2020 Tokyo Olympic games have – for the time being – abated after Japan's Olympic minister and the governor of Tokyo agreed to cooperate with each other on its construction plans.
A dispute between the central and Tokyo Metropolitan governments over the design of the stadium and who should pay how much had threatened to seriously derail preparations for the Games in Japan's capital.
Olympic minister Toshiaki Endo has persuaded Tokyo's Governor to cooperate on a new plan that starts from scratch.
He said ''The amount of the financial support from Tokyo has yet to be decided. The costs will be decided based on the structure, shape, design and specifications of the new stadium.''
The government decided only last week to scrap its original plan for the stadium amid public criticism over ballooning construction costs.
A decision that has reportedly cost 50 million dollars of funds.
A new construction plan is expected by early autumn.