Germanwings crash families demand apology and payout from Lufthansa
Comments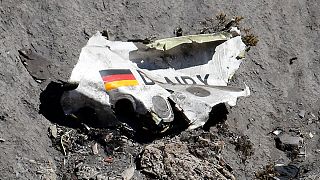 The parents of children killed in the Germanwings plane crash have called for an apology from the airline's parent company Lufthansa.
In a letter published the the Bild newspaper they say the firm has ignored them and offered a payout that deeply insulted them and above all their children.
Lufthansa is offering 25,000 euros to the families of those killed in the crash with an additional 10,000 euros for the next of kin, on top of 50,000 euros in immediate financial support.
Elmar Giemulla, one of the lawyers representing the victims' families said,
"Our position is that it's incredibly hard to define a sum. But it's equally obvious that 10-thousand (euros) isn't enough, it ought to be more than that. We're imagining a six-digit figure, in the low range of six-digit figures."
Prosecutors believe the co-pilot deliberately crashed the plane into the Alps killing all 150 aboard, including 16 children on a school trip from Haltern, Germany.