French farmers block cities in price protest
Comments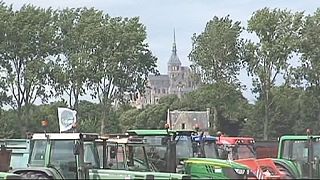 French livestock farmers caused travel chaos on Monday in the north west of the country using their tractors to block roads.
The action was the latest in a series of protests at the low prices paid to them by supermarkets.
Farmers blocked four main routes into Caen in Normandy with around 300 tractors and trucks full manure.
The area around Mount St. Michel is expected to be blocked until Thursday.
The French cattle, pork and milk sectors are also in crisis due to stagnating international demand linked to a Russian food embargo, slowing Chinese demand and cheap competition from other EU countries.