France announces emergency measures for cash-strapped farmers
Comments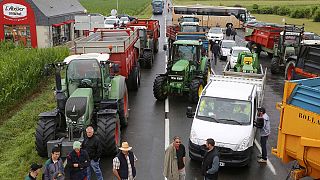 President Francois Hollande has said he would unveil emergency measures to help France's livestock and dairy farmers on Wednesday (July 22).
Tuesday's announcement came as as livestock farmers caused chaos in the north west of France, using tractors and trucks full of manure and rubble to block roads.
The action was the latest in a series of protests at the low prices paid to them by supermarkets.
Yannick Bodin, president of agricultural union 'Coordination Rurale de la Manche' said: "It's really a cry for help. Farmers earn nothing. We need to borrow cash to support our families, even to pay for food."
"Tomorrow's cabinet will take decisions," said Hollande to reporters in Paris. "Beyond the issue of distribution and prices, I have asked that there should be an emergency plan for French livestock and dairy producers," Hollande told reporters in Paris.
He gave no details other than to say there would be "structural measures".
Les éleveurs en colère bloquent la Normandie, Le Foll temporise http://t.co/ifsqHmKALZ#AFPpic.twitter.com/J3Gpcy6rOJ

—

AFP

Rennes (@AFPRennes) July 20, 2015
The French cattle, pork and milk sector is in crisis due mainly to stagnating international demand, due to a Russian food embargo, slowing Chinese demand and cheaper supply from other EU countries. That has exposed longstanding pressures from business costs and retail consolidation in France.
Farmers started blocking the four main routes into Caen on Sunday (July 19) evening.