'Exorcist' priest wows Warsaw with 'Jesus at the Stadium' show
Comments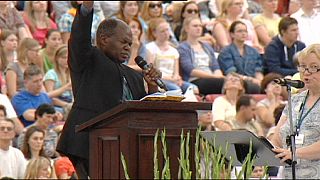 Self-proclaimed exorcist and faith healer Father John Bashobora wowed Warsaw with his 'Jesus at the Stadium event' on Saturday.
Tens of thousands of Poles packed into the city's National Stadium to hear the Ugandan Catholic priest.
Normally used for sporting events, the stadium was transformed into a giant church.
Many of those attending were seeking help for illnesses or other problems.