Kenya's Westgate shopping mall re-opens after massacre
Comments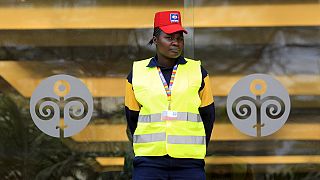 Kenya's Westgate shopping centre in Nairobi has re-opened almost two years after the four-day siege and massacre in which at least 67 people died.
Officials say security has dramatically improved since September 2013 when al-Shabaab militants went on the rampage.
It's thought parts of the complex badly damaged during the attack may remain closed, but following a refurbishment about half the shops are re-opening.
Westgate Shopping Mall welcomes you back!! Come #experiencelifestyle, #bestshopping, #finedining We are now #open!! pic.twitter.com/oe7TzfEyu1

— Westgate Mall Kenya (@WestgateMallKe) July 18, 2015
There are mixed feelings in Kenya as to whether the move is appropriate.
"We were there during the attack inside the Westgate mall and now we're coming back with all the spirit and boost and morale, and we're very happy to do that," said one man.
"It's just, it doesn't feel right. It should be a memorial, a memorial place. Yeah, so I don't think it's right. I'd rather not go there," another man said, thoughtfully.
When al-Shabaab attacked Westgate the militants also struck at a symbol of Kenya's growing wealth, targeting foreign nationals in the process.
Since then the militants from neighbouring Somalia have hit Kenya regularly, killing 150 people in the northeast university town of Garissa, and damaging its tourist industry.
The group says the attacks are in response to Kenya's involvement with an African Union-led force in Somalia.