Iran's Khamenei says nuclear deal won't change stance on US
Comments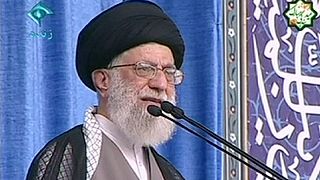 Iran's supreme leader has said that the historic nuclear deal struck with world powers will not change its stance towards the United States.
In an address marking the end of the Muslim holy month of Ramadan Ayatollah Ali Khamenei added that Tehran remains at odds with US policy in the Middle East.
He called on politicians to examine the fine print to ensure national interests were not compromised, as well as their regional alliances.
"We will not stop supporting our friends in the region: the oppressed people of Palestine, the oppressed people of Yemen, the people and government of Syria, the people and government of Iraq, the oppressed people of Bahrain".
During his weekly address, President Obama defended the deal against criticisms it could fuel sectarian tensions in the Middle East.
"Does this deal resolve all the threats Iran poses to its neighbours around the world? No. Does it do more than anyone before to make sure that Iran does not obtain a nuclear weapon? Yes. And that was our top priority from the start."
Obama has remained guarded about any prospect that the deal will inspire any shift in Iran's role in the region or its relationship with Washington.