Greece: Tsipras reshuffles cabinet after anti-austerity revolt
Comments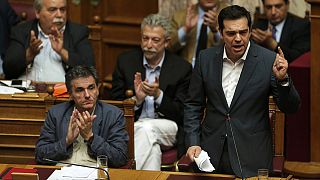 Greek Prime Minister Alexis Tsipras has sacked leftists in his cabinet who voted against more austerity and reforms demanded by international creditors in return for a new rescue deal.
Despite the revolt within his Syriza party, parliament approved the bailout – opening the way for European action to stave off Grexit, at least for the time being.
The main economic ministries remain unchanged, with Euclid Tsakalotos keeping his job as finance minister.
But Energy Minister Panagiotis Lafazanis and two deputy ministers were sacked in a reshuffle that had been expected ever since the rebellion left Tsipras dependent on the votes of pro-European opposition parties to get the deal passed.
The new ministers are set to be sworn in on Saturday.
Tsipras has ruled out immediate early elections before a bailout deal is actually agreed, but Interior Minister Nikos Voutsis said this week that elections may come in September or October.
Tsipras replaces rebels in government reshuffle http://t.co/rgyP3eQIBYpic.twitter.com/tkZB1vlzTf

— Kathimerini English (@ekathimerini) 17 Juillet 2015
The reshuffle came on the same day that German lawmakers gave the go-ahead for the euro zone to negotiate a third bailout for Greece.
Our correspondent in Athens, Stamatis Giannisis says:
" Following the refusal of the outgoing cabinet's left-wing hardliners to support the new deal with the country's lenders, the Greek prime minister wanted to send a message both at home and abroad that he is determined to carry out the reforms he agreed last Monday in Brussels."