ISIL claims rocket attack on Egypt navy boat in Mediterranean Sea
Comments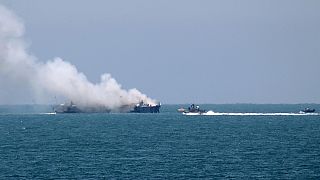 The SITE intelligence group reports a rocket attack on an Egyptian navy frigate in the Mediterranean Sea has been claimed by the group calling itself Islamic State or ISIL.
Sinai #ISIS claimes to destroying a frigate of #Egypt Navy in the Mediterranean Sea with a rocket – siteintelgroup</a> &#10;&#10;<a href="http://t.co/pvBHn2bAGB">pic.twitter.com/pvBHn2bAGB</a></p>&mdash; Conflict News (rConflictNews) July 16, 2015
The group exchanged shots with the boat on Thursday causing it to catch fire, according to an Egyptian military statement.
The attack happened on the coast of northern Sinai, an area bordering Israel and Gaza.
A Reuters witness in Gaza saw a plume of dark smoke rising from a boat off the coast.
An Israeli military spokesperson said Israel was not involved in the incident and had not been asked to assist.