Greek parliament approves tough reforms demanded by Brussels
Comments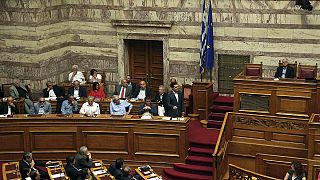 Greece's parliament has approved tough new austerity reforms by a large majority.
The result was 229 votes to 64 in the 300 seat chamber. There were 6 abstentions and one absentee.
The passing of the bill was set as a condition by Brussels for an 86 billion euro bailout over the next three years.
The vote came after Prime Minister Alexis Tsipras, who had been facing a revolt by his own Syriza party, made an emotional speech to get them on board.
Even though he had declared his dislike for the terms agreed with Greece's creditors he said he had done his best for the country .
In the end one-in-four Syriza party members did not back the bill.