Greece: the politicians debate, the people protest.
Comments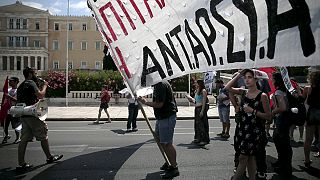 In Greece, while the politicians debate inside, outside there are protests on the streets.
Several protests against #bailout; police mobilize #Greece#Syriza – http://t.co/jKN66S9gU8pic.twitter.com/3SWfvsxZ3h

— enikos_en (@enikos_en) 15 Juillet 2015
Waving banners and chanting anti-EU slogans, they are urging the Greek parliament to reject the latest bailout proposal.
There is anger and defiance at the range of tax hikes and pension reforms demanded of a country already in a deep crisis.
"This is the beginning of a new fight," said one man,"a tough fight in case the new bailout is voted in. We will fight to overthrow this new bailout, like we have been doing for the past five years."
"The European Union is a joke for the people," said another, "these are bailouts that will last our entire lifetime. We should take power into our own hands, overthrow everything and leave the EU. It is like a noose around our necks, it is strangling the people."
A wave of strikes hits Greece
#Greecehttp://t.co/vVtEU5G9DP Public sector strike on 15 July, possible protests.

—

FCO

travel advice (@FCOtravel) 14 Juillet 2015
A wave of strikes has also spread across Greece, including public transport and pharmacies. Their impact, however, seems limited at this stage.
Research suggests more than 70 percent of Greeks want parliament to approve the new bailout.