Trouble brewing in Greek parliament
Comments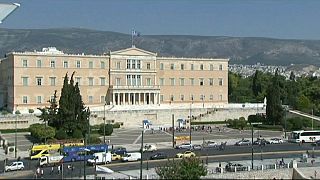 Inside the Greek parliament, dozens of MPs are expected to reject the bailout. That may force Tsipras to rely on pro-European opposition lawmakers to carry the crucial vote which is expected after midnight (July 16).
"The strong have demanded from the defeated to accept terms that they had no right to demand, and the defeated have accepted commitments that they had no right to accept," said former finance minister Yanis Varoufakis during a finance committee. "These were the words of John Maynard Keynes, for the treaty of Versailles. What we have in front of us is a new treaty of Versailles."
Greece's far-left energy minister Panagiotis Lafazanis told reporters that the choice between a bailout or catastrophe is a choice made "in the face of terror."
"The whole of Syriza didn't vote for the first bailout. We didn't vote for the second bailout and we were right. I am not going to vote for the third bailout submitted today in parliament," said Lafazanis.
In an early sign of possible trouble in store, the deputy finance minister abruptly quit and the energy minister said he would not support the deal.