Galapagos: sun and wind power world's 1st 'green' airport
Comments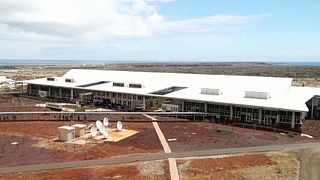 The world's first 'green' airport is up and running on Ecuador's Galapagos islands.
The eco-airport, located on the island of Baltra is completely powered by sun and wind.
Furthermore, 80 percent of its infrastructure was made from material recycled from the previous airport.
The airport, which opened in 2012, has been awarded the US Green Building Council's Leadership in Energy and Environmental Design (LEED) Gold certificate for sustainable construction.
"The main thing is that it is a sustainable building, a public building that can balance technology and comfort for passengers without polluting the environment," said airport manager Jorge Rocillo.
"This is basically the legacy we want to give," he added.
The Galapagos' unique and abundant wildlife draws visitors from all over the world
The eco-airport has been welcomed by environmentalists, who have been sounding the alarm in recent years about the threat of booming tourism to the fragile ecosystem.