Auschwitz accountant gets four years for working at death camp
Comments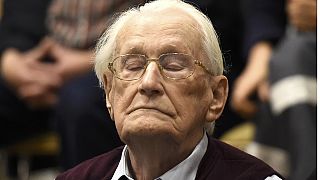 A 94-year-old former bookkeeper at Auschwitz has been sentenced to four years in prison in what could be one of the last big Holocaust trials.
Oskar Groening had been accused of being an accessory to the murder of 300,000 people, although he did not personally kill anybody.
He was 21, and by his own admission an enthusiastic Nazi, when he was sent to work at Auschwitz in 1942.
Groening who had been on trial since April told the German court that he was morally guilty but it must determine his guilt in legal terms.
Prosecutors argued that by sorting the banknotes from trainloads of arriving Jews he helped support the regime responsible for mass murder.
Earlier this month he said he stood before the victims with humility and remorse.
Bookkeeper of Auschwitz Oskar Groening, 94, sentenced to 4 years in prison http://t.co/QayENDvr1bpic.twitter.com/A9PfD9Jl8O

— Daily Mail Online (@MailOnline) July 15, 2015