Calais 'secure zone' to keep migrants away from UK-bound lorries
Comments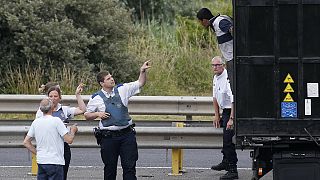 Britain's interior minister has told parliament that a new secure zone is being set up in the French port of Calais to protect UK-bound lorries from migrants trying to reach Britain illegally.
It will have space for 230 vehicles – or the equivalent of moving a two-and-half mile (four kilometre) queue, Home Secretary Theresa May said in a statement to the House of Commons.
"This should transform protection for lorries and their drivers, removing them from the open road, where they can become targets for migrants attempting to board their vehicles," May said in the House of Commons.
Many lorries stuck in jams on the open road recently, due to a French ferry workers' blockade of Calais port, have proved vulnerable to migrants trying to get on board.
May said the Calais authorities had caught more than 8,000 migrants trying to reach the UK illegally in the past three weeks alone.
"The problems in Calais are clearly symptomatic of a wider issue that needs to be tackled at source and in transit countries." 
Britain's Road Haulage Association (RHA), which has called for an EU-wide approach to tackle the migrant crisis at Calais, has criticised the fact that the new secure zone will not be in place until the autumn.