Iran nuclear talks: 'hope' for resolution, despite mixed signals from Tehran
Comments
By
Euronews
with
Reihaneh Mazaheri, Reuters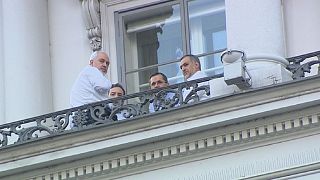 Western and Iranian diplomats negotiating Tehran's nuclear programme appear hopeful an agreement will be reached.
Our diplomacy showed the world that we are logical. We never left the negotiating table.
They say they are working hard towards a breakthrough. The comment seems to contradict a tweet by Iran's Supreme Leader, in which he accuses the US of arrogance and urges Iranian's to fight against this.
Leader in meeting with university students: The US is perfect instance of Arrogance. Prepare yourselves for more fight against Arrogance.

— Khamenei.ir (@khamenei_ir) July 11, 2015
Officials have given themselves until Monday (July 13) to broker a deal on sanctions relief for Iran in exchange for restrictions on its atomic programme. President Hassan Rouhani hinted the discussions could go either way.
"We have talked with the six world powers in a way that even if the nuclear talks fail, our diplomacy showed the world that we are logical," he said. "We never left the negotiating table and always provided the best answer."
French Foreign Minister Laurent Fabius appeared to have run out of patience, after reports emerged of a shouting match between US Secretary of State John Kerry and Iranian Foreign Minister Mohammad Javad Zarif.
In an apparent push to speed up proceedings in Vienna, Fabius said all issues had been laid out and it was time to make a decision.
Diplomats close to the talks say this could happen as early as Sunday (July 12), as our correspondent Reihaneh Mazaheri reports:
"Officials are saying hope has returned to the negotiations. And they say the necessary political will to resolve the latest issues appears to be there."