'Progress made', but is it enough? No conclusion in Iran nuclear talks
Comments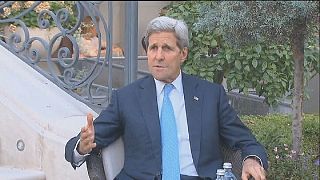 An Iranian diplomat has told euronews the Iran nuclear talks in Vienna will break down if a deal is not reached by Monday.
The comment was made as it was announced the deadline for an agreement would be extended once again, after a Friday morning cut off date came and went.
US Secretary of State John Kerry conceded that issues remain ahead of the new, July 13 deadline.
"We still have a couple of very difficult issues and we will be sitting down to discuss those in the very near term, this evening and tomorrow," he told the press. "I think we have resolved some of the things that were outstanding and we've made some progress."
Moments ago, Secretary @JohnKerry provided an update on #IranTalksVienna. http://t.co/lkKT4Um7oK

— Department of State (@StateDept) July 9, 2015
Both sides acknowledged some progress had been made in hammering out a deal designed to limit Tehran's nuclear programme. Iran's Foreign Minister Mohammad Javad Zarif told journalists they were hopeful about reaching an agreement.
However Britain's foreign secretary described the negotiations as "painfully slow".
Our reporter Reihaneh Mazaheri was in Vienna.
"Negotiations between both sides have gone past the July 10th deadline," she says. "On this date, the text for an agreement was supposed to be presented to the US Congress. Both sides have shown that – after more than a decade – there is no rush to finish these talks. Now, following the deadline extension, they have a renewed opportunity to try to resolve the remaining issues. What remains to be seen is whether these extra few days will be enough to do that."