Serbian PM Vucic forced to flee Srebrenica commemoration
Comments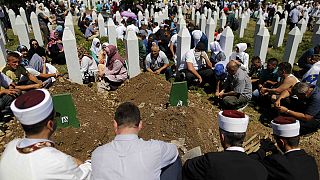 As tens of thousands gathered near Srebrenica in Bosnia on Saturday to mark 20 years since the massacre that saw 8,000 Muslim men and boys slain by Bosnian Serb forces, grief mixed with anger.
More than 100 newly-identified victims were laid to rest.
But crowds turned on Aleksandar Vucic, the prime minister of Serbia which refuses to recognise what happened as genocide.
Jostled and targeted by stones and bottles, he was forced to flee in what Serbia has condemned as an 'assassination attempt'.
Another world figure at the commemoration, Bill Clinton, who was US President at the time of the Balkan wars, welcomed Vucic's
presence.
"As a friend of Bosnia, I want to thank the Prime Minister of Serbia for having the courage to come here today," he said from the stage.
He added: "I am begging you not to let this monument to innocent boys and men become only a memory of the tragedy."
Our correspondent at the ceremony, Laurence Alexandrowicz, said:
"The Srebrenica genocide is the most high-profile tragedy of this Bosnian war, but it was not an isolated case. Most deaths occurred during the Serbian forces offensive in 1992 and the war criminal Ratko Mladic is currently on trial for genocide at the International Criminal Tribunal for the former Yugoslavia at the Hague for events in the region of Prijedor, further west."