Nowhere to call home in Bosnia: The bitter legacy of the Balkan wars
Comments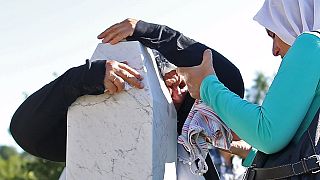 Twenty years after the Srebrenica massacre, some 100,000 Bosnians are still refugees in their own country.
In Jezevac, 70 families live in a small, outlying camp, built by the Netherlands. Such temporary shelters can still be found scattered across Bosnia. But it is a temporary situation which has become permanent for those who fled the horror of the war.
"I was captured. I walked on dead bodies, surrounded by fires," said Suhra Mustafic.
"I ate the leaves of hazelnut trees to survive with my children."
Suhra is 52 years old. Some 41 men in her family were killed. On Saturday's anniversary, she was burying a brother.
Suhra is ill. Half of her monthly war widow's pension of 150 euros goes towards her medical needs. She also has to feed her six children who live in the camp, with no future ahead of them.
"My children don't have jobs," she said.
"If they did, life would be better, especially for them. They are not married and even if they wanted to, they have nothing to bring to a marriage."
Thirty minutes away, the city of Tuzla is a different world. The fate of those left behind in Jezevac does not seem of great concern to the government unlike Branka Antic, the camp's psychologist.
"It is not fair. These people are in refugee camps," Antic said.
"They haven't had the chance to show their personalities, their intelligence – to work, to fulfil their potential, to build a life for themselves."
A million people were internally displaced by the war. Another million fled abroad. Returning home is often impossible: it is a source of fear, other people may have seized your property or maybe it no longer exists, other than in your worst nightmares.
"I never want to go back home, even in death," said refugee Safija Ibrahimovic.
"Because it is in that house that they killed my two brothers-in-law. I have nowhere to go."
Our correspondent in Bosnia, Laurence Alexandrowicz, says: "During the war, displaced people had the right to live in abandoned houses. After 1995, the law changed and you could get your property back. But you had to do so within three weeks of hostilities ending. Suffice to say that many people were never able to recover their homes."