ISIL says it bombed Italian consulate in Cairo
Comments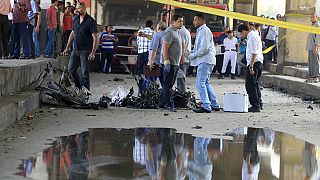 ISIL says it carried out Saturday's car bomb attack on the Italian consulate in Cairo, which the authorities said killed one person and wounded 10.
The claim was made via a website that carries the extremist group's messages, saying that its soldiers detonated a parked car bomb carrying 450 kg of explosive material. The consulate building was severely damaged.
Until now, ISIL's supporters have concentrated on attacking Egypt's security forces, but this attack suggests a new front against foreigners.
The message warned Muslims to stay clear of such "security dens" which it called "legitimate targets".
ISIS loyalists have claimed today's bomb in Cairo. First attack here since the group pledged allegiance to the central organisation.

— Louisa Loveluck (@leloveluck) July 11, 2015
Egypt's Prime Minister Ibrahim Mehleb said the country was at war and urged the world to unite against terrorism.
Italy's Foreign Minister Paolo Gentiloni, who said there were no Italian victims, added that his country would not be intimidated.
Two weeks ago, Egypt's top public prosecutor was killed by a car bomb attack in Cairo. And militants affiliated to ISIL attacked several military checkpoints in North Sinai, in the fiercest fighting in the region in years.
One dead, several injured after this morning's Cairo bomb. Road was relatively deserted due to the early timing – but usually it's bustling.

— Louisa Loveluck (@leloveluck) July 11, 2015